July 19 – 23, 9am – 3pm
What is Amazing Grace Day Camp?
Amazing Grace Day Camp is a unique blend of congregational evangelism, outreach, and outdoor ministries. This ministry is a partnership sponsored by the Southern Ohio Synod, staffed by Lutheran Outdoor Ministries in Ohio (LOMO) and hosted by Good Shepherd Lutheran Church. (GSLC)
Amazing Grace Day Camp:
Is designed for children who will be entering grades 1-7.
Provides a camping experience for youth who may not be able to attend a resident camp.
Provides an opportunity fory outh to experience the Gospel.
Values relationships. We keep a camp staff to youth ratio of not greater than 1:10.
Theme
This year's theme is: "from Generation to Generation" and is based on Psalm 100:5 – For the Lord is good; his steadfast loves endures forever, and his faithfulness to all generations.
What is the camp's strength?
The strength of Amazing Grace Day Camp is God's grace for all people as shared by the camp staff and volunteers.
The camp staff are caring, committed young adults who are trained to lead Bible study, worship, singing, crafts, and recreation. They are employed full time for the summer by Lutheran Outdoor Ministries of Ohio.
The volunteers are adult members of Good Shepherd who enjoy working with children. They come from all walks of life and each has gifts to offer. Each volunteer has been background checked and vetted by the church staff.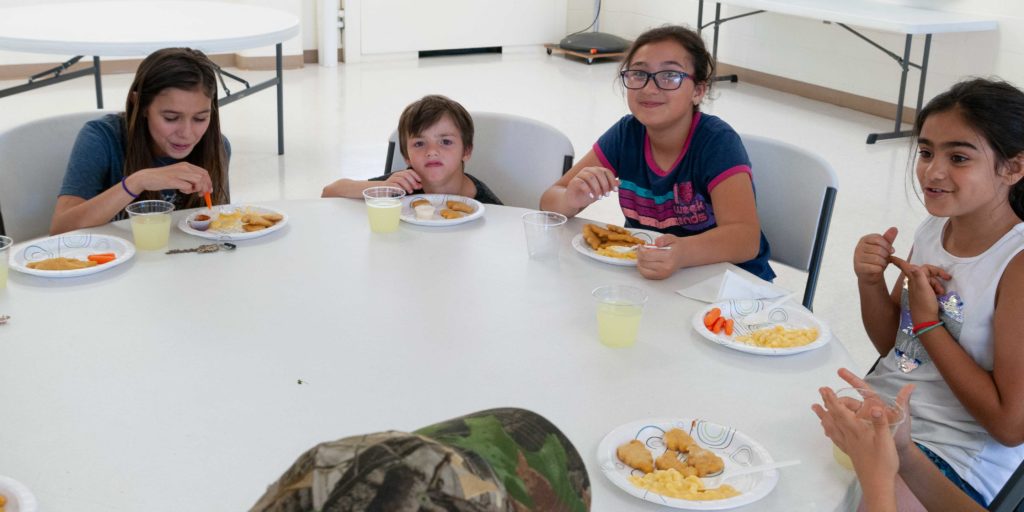 Lunches and Snacks
Lunches and snacks will consist of fresh, healthy foods. They will be kid-friendly with lots of fruits and vegetables available. No peanut products are used.
Cost = Free
Amazing Grace Day Camp is free. God's grace is available to all at no cost. The Good Shepherd congregation supports this ministry through its weekly offerings. Free will offerings are accepted, but not expected.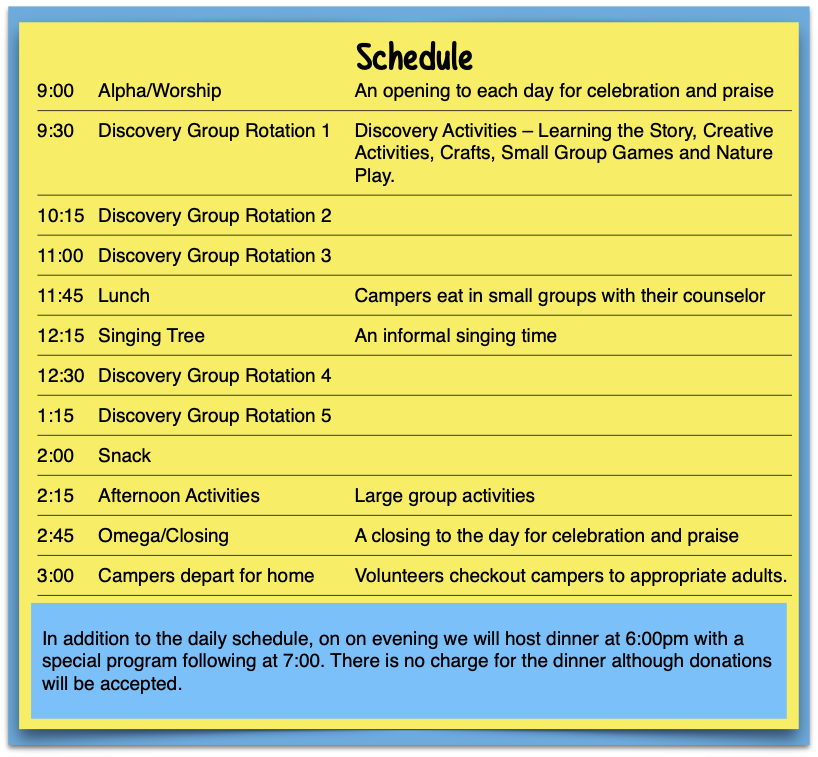 Covid Protocols
Campers and staff will be required to wear masks when indoors. Weather permitting, most of our activities will be held out doors.
Registration
Registrations forms may be downloaded here or picked up at the church office.
Registration is open and is limited to 30 campers.
Printable copies of this brochure may be downloaded here.
Worship Times
Due to COVID, we are currently worshipping both in person and through on-line streaming on Sunday mornings at 10:30 am. These times may change this fall.
Sunday school and Bible Studies ore done online using Zoom. Please see our website for more information.